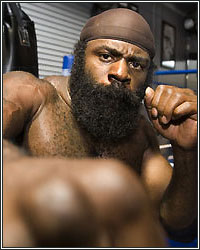 "I'm gonna be a problem in the heavyweight division. I'm going to be coming in with a bad demeanor. I want to see what it's like to break some ribs, break a jaw with one punch," stated former UFC heavyweight Kimbo Slice, who officially announced his intention to make his professional debut as a boxer. After weeks of negotiations, promoter Gary Shaw, who previously worked with Slice when he made his mixed martial arts debut with the now-defunct EliteXC organization, finally convinced the former YouTube sensation to test his striking skills in the sweet science.

"He could easily be at the same level as guys the Klitschkos have been fighting," Shaw would tell Michael Woods of ESPN New York. "Maybe I'm wrong, maybe he's coming to boxing too late, but I don't think so. He's not a beaten-up athlete. He's a natural, with that bob and weave like Mike Tyson," he added, drawing comparisons to the style, raw aggression and aura of Mike Tyson, who was once considered to be one of the most feared fighters in the heavyweight division. It's doubtful that Slice will carry that same mystique that Tyson once had, especially considering that he was already stopped twice in his 6-fight MMA career, however, if matched correctly, he can certainly provide some fireworks to a division that is sorely lacking in excitement.

"This is a career move," Slice would explain. "I love fighting. I like to knock people the fuck out. I love engaging. Maybe some people think I'm crazy." Although no official date has been set for Slice's professional boxing debut, Shaw suggested that his first bout would likely come some time towards the end of this year. "These fighters these days, they're complacent, lazy. I'm hungry," Slice added.
[ Follow Ben Thompson on Twitter @fighthype ]