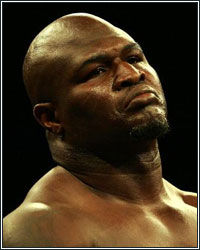 Mondays are by far the hardest days to get going on, but when you receive an early morning wake-up call from future Hall of Famer James "Lights Out" Toney, it's pretty easy to snap to attention. "Wake yo ass up. I heard Gary Shaw was talking shit about me," Toney called me up to inform me earlier today. I scoured the internet to try and find the article he was referring to and ran across a few comments that Shaw had made to Dan Wetzel of Yahoo! Sports, saying Toney looked "like a very old man, slurred his words, and was non-competitive." Shaw also stated, "James Toney had less than a zero percent chance unless Randy had a heart attack from hearing the bell ring," before referring to the UFC 118 pay-per-view as a "sham." Of course, Toney wanted to set the record straight and let Shaw know that although his mixed martial arts skills still need some improvement, his boxing skills are just fine and he'd love the opportunity to showcase them against any one of his fighters. "Tell Gary Shaw I'm down to fight Danny Green or welcome Kimbo to boxing," Toney remarked.

Toney is just two days removed from his disappointing MMA debut this past Saturday night at UFC 118. UFC Hall of Famer Randy Couture, best known for his skills as a Greco Roman wrestler, wasted little time in taking Toney to the ground and choking him out in a little over 3 minutes. Although UFC President Dana White made it clear that he's no longer interested in matching professional boxers with UFC fighters, Toney insists that he'll continue his mixed martial arts, as well as his boxing career. Regarding Gary Shaw's recent comments, Toney does bring up a valid point. Although people are quick to judge him on his performance inside of the Octagon, no one is too eager to step inside of a ring with him. It's a fact that Toney hopes will change in the near future assuming anyone is brave enough to test their boxing skills against him. Now that he's experienced what it's like to fight inside of a cage, Toney encourages anyone to do the same and step into his world inside of a ring.

Enter former UFC heavyweight Kimbo Slice! After his own disappointing loss to Matt Mitrione at UFC 113, Slice was also released from the organization and now, he and his new promoter, Gary Shaw, have announced his intention to cross over into boxing. Ironically, not too long ago, it was Shaw who first suggested the idea of a bout between James Toney and Kimbo Slice. "I think the UFC made a huge mistake. Once again, Dana's ego has probably gotten in the way. I think Kimbo Slice could be a draw wherever he goes around the world. I think they matched him up wrong. I would have put him against just stand-up fighters. I would have built to a pay-per-view with James Toney, so my way of doing business is obviously different than Dana's and the UFC," Shaw would tell Marcos Villegas of FightHub TV back in June, shortly after Slice was released from the UFC. In fact, according to Shaw, a bout between Toney and Slice would have been much more competitive based on the stand-up skills that both men prefer to exhibit. "If James wants to...and I like James a lot...if he wants to try MMA, then God bless him, but he needs to be in against the Kimbo Slices, the guys where he can stand and use his skills as a boxer. He's way too old to develop all the skills of these real good MMA guys. Impossible," he continued.

While Shaw is correct that he would have stood a far better chance of being competitve against the likes of Kimbo Slice, Toney was actually against taking the easier challenge, preferring instead to test his skills against the best that the UFC had to offer. Given Shaw's comments, however, Toney is now wondering if the promoter feels the same about his own fighters' chances against him inside the boxing ring. "It would have been like taking candy from a baby for me to fight him [Kimbo Slice] with 4 ounce gloves on. But now, since his promoter wants to talk shit about me, I will gladly welcome him into boxing. I fought a MMA legend in my first MMA bout, so now he can fight a legend in his first pro boxing bout," stated Toney. "Furthermore, he is advising Danny Green and I've always wanted to see what he can do without the headgear on because I damn near killed him with it on," he continued.

Never one to shy away from a fight, Toney is already eyeballing a return to the squared circle some time in October, which is also the same month that former light heavyweight champion Antonio Tarver is making his heavyweight debut. Toney is also hoping to get back inside of a cage some time in the beginning of next year. Whether or not Shaw would entertain putting any of his fighters inside the ring with James Toney remains to be seen, but it's clear that the future Hall of Famer won't stop looking to pick a fight anytime soon. So the question is will Gary Shaw put his money where his mouth is and put Kimbo Slice or Danny Green in the ring with James Toney?
[ Follow Percy Crawford on Twitter @MrFighthype ]