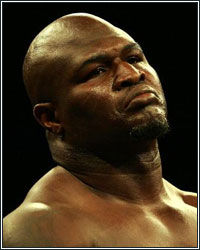 Earlier today, UFC middleweight contendr Vitor Belfort released a statement urging UFC President Dana White to allow him to face future boxing Hall of Famer James "Lights Out" Toney in a boxing match. "Dana, let me fight James Toney on a 6 round boxing match. I think I can catch him with my speed. Dana, this will be the first boxing match in UFC and I promise he will feel my power and we will show the world that a UFC fighter can do better," Belfort posted on his Twittr account. Naturally, upon hearing the news, Toney wasted no time in replying to the Brazilian knockout artist. "Tell Vitor Belfort let's make it happen. I like that because he ain't no scared little bitch. He wants to come to my world and I'm more than willing to welcome him into my world," Toney would inform FightHype.com moments ago.

Belfort, who at one point was considered to have the fastest hands in MMA, is on a 5-fight winning streak, including a 1st round knockout over Rich Franklin in his last outing. Of course, that bout took place a year ago, when Belfort made his return to the Octagon after nearly 4 years during UFC 103. After that fight, Belfort was originally set to take on UFC middleweight champion Anderson Silva, but a shoulder injury would sideline the former champion, forcing him to sit out and rehab all this time. Belfort's comeback will take place in November at UFC 122, when he takes on Yushin Okami in a title eliminator, but he welcomes an opportunity to also test his boxing skills against Toney.

Much like Randy Couture, Belfort used his Twitter account to ask the UFC President for the fight with Toney, but the surprising twist is that he wants the bout to take place inside the Octagon using the unified rules of boxing. No stranger to the sport, Belfort has actually had professional boxing experience, albeit only one fight, winning via first round knockout in his professional debut. Such an event would be the first of its kind for the UFC, but given that Dana White has already stated that he's no longer interested in any future boxing vs. MMA matchups, it's highly unlikely that he'll be willing to make it happen. Still, it sure would be interesting.
[ Follow Percy Crawford on Twitter @MrLouis1ana ]