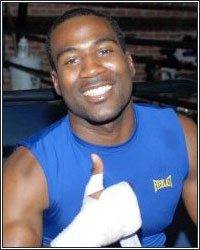 "I come to fight. I'm a fighter by nature; by heart. I've been a fighter all my life, so once we lace the gloves up and step in the ring, I definitely come to fight, you know? No pitty-pat hanging around; I'm trying to hurt you...I'll be keeping busy for the rest of the year. I'm not looking past him, but I'll be taking care of business and then I'll move from there," stated up-and-coming super middleweight Tyrell Hendrix as he talked about his future plans as he looks to get his career back on track. Check it out!

BJ: Hey Tyrell, how's things out in Los Angeles?

TH: Everything's great. The weather's great as always. I've just been in church, so good day.

BJ: Cool. So let's go right into it. I think a lot of us started hearing about you in Ellie Seckbach's YouTube videos. I wondered if you could tell us a bit about your amateur career?

TH: Okay. Actually, I had limited amateur experience. I had 10 amateur fights and I went 9-1 with 5 knockouts, so I'm pretty much learning on the job; day-to-day sparring with top veterans.

BJ: Yep, and we can see you've been sparring with guys like Edison Miranda. You can't get much better practice than that, can you.

TH: Yeah, especially since the guy punches like a mule. He's got strong hands

BJ: I've heard comments from people that you yourself are a pretty big puncher.

TH: Yeah, I think that's one of my great assets; my strength. I've definitely got a good left hook.

BJ: Now obviously we've seen you training at the Goossen gym. You were at the Fortune gym before that, right?

TH: Yes. I trained with Justin Fortune, Manny Pacquiao's old strength and conditioning coach.

BJ: Yeah and now you're at the Goossen gym. Obviously you're there to do serious work and everything, but it looks like a pretty fun place to be.

TH: Yeah. When the cameras are off and we're done, you know Joe doesn't really like the sparring to be filmed, but Ellie pretty much catches us when we're in a good mood.

BJ: Sure. I can imagine it gets pretty heated in there.

TH: Yeah, it gets pretty heated when the cameras are off. It's all blood sweat and tears in there.

BJ: I can imagine. Now for people who haven't seen you fight, tell them what kind of style you've got. I think you're aggressive, you like to come forward, and you've got a good chin.

TH: Yeah, I come to fight. I'm a fighter by nature; by heart. I've been a fighter all my life, so once we lace the gloves up and step in the ring, I definitely come to fight, you know? No pitty-pat hanging around; I'm trying to hurt you.

BJ: Absolutely. Were you doing any sports before boxing or was it always boxing for you.

TH: Actually, I played basketball in high school. That was my first love, but obviously boxing is what I excelled at. I wasn't that good a basketball player.

BJ. You're in the super middleweight division. There was a big fight, Carl Froch vs Arthur Abraham, which was due to take place this week but it's been rescheduled for November. I wondered what you thought about that fight?

TH: Man, that's gonna be a tough one. Carl Froch is definitely a game fighter and they're both coming off losses, you know, Abraham with the DQ and Froch losing to Kessler, so they both have a lot to prove, but I give the edge to Froch. He seems like he got the raw end in that Kessler fight.

BJ: Yeah, I think if the fight was in the UK, he may have got the decision.

TH: Yeah, everybody's getting the hometown decisions. That's how it is, but you know the game. You gotta go with it.

BJ: Yeah, you know the risk. You have to knock the guy out or you may get the wrong end of the decision.

TH: Yeah, I was told by John Bray that most of the time you learn something from losing a fight. When you win, you continue doing your business like you did before. When you lose a fight, you take a look in the mirror and say, "Hey, what did I do wrong? How can I improve?"

BJ: That's a great point I wanted to ask you about. Do you agree with me that in boxing, we make too much of a big deal about a loss? In MMA or other sports like football or basketball, they lose and it's not a big deal, but in boxing, everyone goes over the top.

TH: Yeah, that right there puts a strain on the fighters for the simple fact that promoters and managers don't wanna make certain fights 'cause they're worried their guy might get a loss on their record. I lost my last fight on a split decision vs. Paul Mendez, but I learned a lot from that fight. But when I won or knocked a guy out, I just continued the same as always. But with my last fight, I have watched it over and over and analyzed it and I'm using it as fuel for my next fight.

BJ: Yeah, I got to see that fight online on the Goossen-Tutor YouTube page and I thought it could have been a draw. One of the judges had it for you. I thought you won the first 2 rounds and then he won the last 2

TH: Yeah, it was pretty close, I would say for myself that my type of style is difficult for a 4-round fight. You gotta get to work fast or it could be a draw or a loss. I feel like the more rounds I have, I start to get rolling and things get better.

BJ: It's like Bernard Hopkins. He lost his first ever pro fight and that was a 4 or 6-rounder I think.

TH: Yeah, B-hop lost his first fight, and look at this guy. He's a specimen, 40 something years old and still winning fights. Might not be the most crowd-pleasing right now, but he's definitely a crafty veteran. He knows how to get the job done.

BJ: Yeah, in his younger days, he was quite aggressive, then when he had to cut back a bit when he got a older and realized he had to adjust, he turned into a counter puncher.

TH: Yeah, people don't realize. I watch a lot of film of Bernard Hopkins and he was actually a beast in his early days, knocking guys out, putting combinations together. A lot of people see Bernard Hopkins of the last 5 years or so, throwing 1 or 2 punches and clinching, but that's a good strategy. He gets his shots off then ties you up.

BJ: You're absolutely right. I remember when he fought Glen Johnson before they were both big stars. He beat the hell out of Johnson; very aggressive. I understand you do some stuff outside of boxing. Could you talk about that? I think it's very cool that just in case anything goes wrong, you've got something to fall back on. A lot of boxers don't have that.

TH: Yeah, definitely. "Lonely at the top" is the company I started with my two other partners, Jake Payzant and Lonnie Bradley, and we got a clothing line going. We just got incorporated, so things are looking good as far as that goes. I'm definitely dedicated to my craft as a fighter, but we got that too. I'm pretty easy on the eye, so camera shots are good.

BJ: I saw you say that on one of Sechback's videos (laughs). Now in terms of training, fans like to read about fighters training, how much running you do, if you do weight training, etc.

TH: I run quite a bit, 5-6 miles a day, running at a very fast pace though. I do strength training, but I don't touch weights. It's all calisthenics , push ups, dips, lots of core ab work; a day in the life is eat, sleep, and live boxing, so I'm always in the gym. I'm a gym rat.

BJ: That makes sense. Using your own body weight, like with dips, that's almost better than doing regular weights.

TH: Yeah because regular weights can make you stiff. You wanna be loose; you want your muscles to be long and as loose as possible you know.

BJ: Yeah, and it's about the speed, isn't it?

TH: Yeah, the speed, and punchers can be diverse. You can get a tall, rangy, skinny guy who can hit like a mule, but you can get a short, stocky guy who's compact and his punches will come from his core and legs. I'll give you an example: a car can weigh 30 hundred pounds, but if it goes at 10 mph, it won't cause much damage, but if it's going at 70, you know what happens; the more speed, the more power it will generate.

BJ: It seems like speed is now the key element not just in boxing, but in all sports.

TH: Yeah, speed kills.

BJ: Just a couple more questions Tyrell. I understand you have a fight coming up pretty soon. Could you tell me about that?

TH: Yeah, I fight October 22nd in Montebello at the Quiet Cannon resort. I'm fighting against Benjamin Diaz. I'm ready, you know? It's around 26 days away, I'm focused in the zone and I'm ready to take care of business. I'm fighting my first 6-rounder, so I'm ready to show people what I can do.

BJ: Great stuff. You must be itching to get in there. I think your last fight was in April or May.

TH: Yeah, back in April. Quite some time, but it gave me time, you know? It's tough. You gotta be strong-willed. A lot of fighters don't recover after losing. You get down on yourself thinking, "Can I do this?" But the time you get off, it makes you reflect and I think I can do this and I know I'm ready to get back in there and take care of business.

BJ: No doubt man. I can see you've got the talent, so keep it going. When you've got people like Joe Goossen telling you you're gonna be a star, that must fill you with confidence.

TH: Yeah, he's a legend in the game. People think boxing is just a 1-on-1 sport, but you have a whole team around you and when you hear Joe telling you certain instructions, that really helps that much more.

BJ: I'll never forget in the Castillo vs. Corrales fight, Corrales got knocked down twice and Joe gave him a quick piece of advice, like, "You better get in on his ass now," and look what happened. Now Tyrell, would you like to send a message to the fans out there?

TH: Yeah, stay tuned! Tyrell "Hollywood" Hendrix is fighting Benjamin Diaz October 22nd. I'll be keeping busy for the rest of the year. I'm not looking past him, but I'll be taking care of business and then I'll move from there. Check out www.latcorp.net for future fight updates, clothing and the whole deal.

BJ: It's been great talking to you. Good luck in your next fight, Tyrell. Thanks a lot.

TH: Great! We'll link up again.