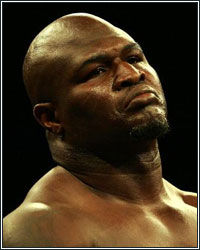 Immediately upon hearing the news that former UFC light heavyweight champion Quinton "Rampage" Jackson called him out on HDNet's Inside MMA, future Hall of Famer James "Lights Out" Toney contacted FightHype.com to let "The Fake Mr. T" know that if he's looking for a fight, all he has to do is sign a contract. "The only thing that the Fake Mr. T has to do is sign the contract. Rampage is a decent club fighter and if he thinks his club fighting style can match my skills, then he is crazy as hell," commented Toney, but it didn't start there.

Not finished with his verbal assault on Jackson, Toney continued, "What? Is he mad because I called him an Uncle Tom or because I said Detroit wouldn't accept him? (Laughing) My boy said Rampage stayed in his room and they were in Auburn Hills. They knew better than to go to the D where I'm from. Rampage is still an Uncle Tom and I will go on record and say he is not dumb enough to stand and trade with me. Machida almost knocked him out, so what do you think I would do to him." Toney would take one more stab at Rampage, stating, "Rampage is a black redneck. He better stick to hanging with them white boys and keep my name out of his mouth. I ain't hard to find; sign the contract!

Toney dropped his first and only UFC fight to Hall of Famer Randy Couture back in August at UFC 118 when he was immediately taken to the ground and choked out. Why UFC President Dana White bothered matching the inexperienced ground game of Toney against an experienced wrestler like Couture is a mystery, especially considering that there are a number of other opponents, like Rampage, who have a much friendlier type of style to welcome a professional boxer into the Octagon. In fact, before he agreed to his last bout with Lyoto Machida, Rampage approached the UFC and expressed his willingness to fight at heavyweight if he was matched with an opponent that wanted to stand and trade. While Dana White appears to be out of the James Toney business, given some of the recent performances of UFC vets, like Matt Hughes and Tito Ortiz, he may want to chalk Toney's UFC 118 performance up to Octagon jitters and consider making this fight a reality. After all, surely he doesn't want to let rival organization Strikeforce continue to put on the more explosive cards.
[ Follow Percy Crawford on Twitter @MrLouis1ana ]