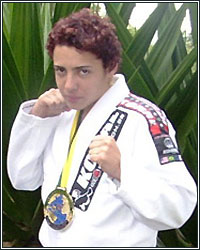 FightHype.com recently spoke to female mixed martial artists Vanessa "Hurricane" Porto who was eager to let Gina Carano know that she wasn't impressed with her victory over Tonya Evinger this past weekend. Check out what Porto had to say about her future plans and more as she hopes to one day face Carano and prove that she's the best female mixed martial artist in the world.

PC: How are you doing Vanessa?

VP: Fine Percy. I can't wait to fight again in the USA. I was the first Brazilian girl to fight MMA in America and it seems my first international fight was enough to get some people afraid of my game.

PC: I understand that you feel as though the Elite XC gave Gina Carano a soft touch by giving her an opponent (Tonya Evinger) that you already defeated. Can you speak on that?

VP: Actually, I am still trying to understand Elite XC's logic. I have a win over Evinger by armbar and then one month later, they invited the loser to fight Gina. Does it make sense to you? It doesn't make since to me.

PC: What did you think of Carano's performance against Evinger?

VP: Carano and Evinger are tough fighters, but I am better than both. I come from the home of MMA, from the home of Brazilian Jiu-Jitsu. This sport is my heart and soul.

PC: You submitted Evinger just 2 months ago. You actually finished her a few seconds before Carano did. How do you see a fight with you and Gina playing out?

VP: The same way my fight with Evinger went. Gina is taller than me so I think she would try to keep distance and focus on boxing, but I love boxing too. People wrongly used to think that I only have ground game. It's not true. I also train in boxing, wrestling and Muay Thai. My game is Vale-Tudo, as we use to say in Brazil, or MMA as you prefer to say it, and I really work hard to be complete in this sport.

PC: Carano seems to have a lot of trouble making weight. Would you be willing to fight her if she didn't make the proper weight?

VP: Of course not. My opponents always have the advantage of being taller than me. If I agree to face taller fighters, they have to do their part on making weight.

PC: Carano is the face of women's MMA right now. What would a win over her mean to you?

VP: Sometimes faces are only marketing, but I can guarantee you, I'm not a face. I am real and I want to fight top fighters. If Gina is one of them, I want to fight her.

PC: If you can't get Carano next, who would you like to fight?

VP: I should be fighting for Fatal Femme's belt in November against Roxanne Modafferi. I'm not stopping to just wait for Gina. I just don't understand how she can be considered the face of Women's MMA with only five bouts, and the last one was against someone I had submitted one month before.

PC: Would you be willing to sign a contract with Elite XC to get the Carano fight?

VP: Elite is a big show so if they want to put their girl into a real tough fight, I will be here, but as I have said, I am not waiting for them. My agent's got a good deal with FFF, which in my opinion is the best female MMA show in the world. I will be fighting for the belt in November and this is my goal.

PC: Thanks for your time. I hope you can get this fight. Is there anything you would like to say if Carano or Elite XC matchmakers are reading this interview?

VP: Thank you Percy for the opportunity. Yes, I would like to say that I respect Gina and Elite is a good show, but it is time to put Gina in against a real challenge.
[ Follow Percy Crawford on Twitter @MrLouis1ana ]