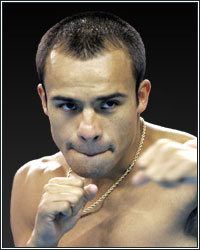 It's official...sort of! Earlier today, lightweight king Juan Manuel Marquez prepared to put pen to paper to sign on the dotted line to meet pound-for-pound champion Manny Pacquiao inside the ring for a third time later this year. According to a report by the L.A. Times, Marquez met with Top Rank President Todd duBoef early this morning at the Beverly Hills Hotel in Los Angeles, California where they finalized details of the contract. The bout, which is said to be at a catchweight of 144 pounds, is already scheduled to take place on November 12 at the MGM Grand Garden Arena in Las Vegas, Nevada and will likely earn Marquez a minimum guarantee of $5 million. Marquez's current promoter, Golden Boy Promotions, evidently agreed to the bout after they were unable to match the offer.

The last time both men faced off was over 3 years ago when Pacquiao narrowly edged out a split decision victory over Marquez to win the WBC super featherweight title. Since that time, Pacquiao has won 3 more titles in 3 different weight classes, going as high as 150 pounds and literally dominating a who's who list of bigger me, including Oscar De La Hoya, Ricky Hatton, Miguel Cotto, Joshua Clottey, Antonio Margarito, and most recently Shane Mosley. Marquez, on the other hand, has stayed much closer to the original weight they last fought at, winning the lightweight (135 pounds) title after stopping light-hitting Juan Diaz over 2 years ago. The one time Marquez did attempt to move up higher in weight, he was dropped and thoroughly dominated by Floyd Mayweather in a welterweight bout that many believed he had no business being in. After that loss, Marquez returned to the lightweight division where he picked up 2 more decent wins over Michael Katsidis and Juan Diaz again, but he has yet to prove that he can actually be effective at a weight higher than 135 pounds.

Considering the lackluster effort that Marquez gave when he fought Mayweather, landing an embarrassing 69 punches throughout the entire fight, it should be very interesting to see how he fairs against Pacquiao at the higher weight. Although he gave Pacquiao two of his most competitive bouts, is Marquez biting off more than he can chew by taking on the a man who is seemingly ending the careers of all the welterweights? Even though the fight will be taking place at 144 pound, will it be perceived to be as big of a mismatch as Mayweather vs. Marquez was? Let us know your thoughts in the comments below.