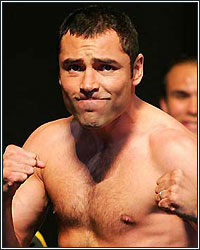 According to reports, former 10-time world champion and future Hall of Famer Oscar De La Hoya recently checked himself into rehab due to substance abuse problems. TMZ, the popular celebrity gossip website, recently broke the news that De La Hoya checked into a California-area facility some time within the last few weeks in order to seek treatment for an unnamed substance. FightHype.com can confirm that over the past six months, we've also received numerous reports from sources stating that De La Hoya has long been dealing with a cocaine problem.

As recently as six weeks ago, in fact, one source told us that contrary to comments made to the media, De La Hoya was hoping to make a return to the ring in the very near future, but those that are close to him advised that he first seek treatment for his substance abuse problems. "It's a serious problem. He ain't hitting golf balls; he's hitting eight balls. He barely even goes to fights anymore. Richard doesn't want to be embarrassed. Fighting is definitely out of the picture if they don't even want him to appear at events. With Golden Boy's reputation and Ring Magazine and other entities that they established, there's just too much on the line to lose. It would ruin their reputation. Richard Schaefer is Golden Boy right now," the source stated.

In just the last day, De La Hoya made a couple of interesting posts on his official Twitter account, stating, "Take a deep breathe and let out all that anger that makes you hate. it really is going to be o.k." and "Stop finding excuses not to live. life is controlled by what you make of it and not of what it makes of you." As Rick James once said, cocaine is a helluva drug. Whether or not those posts had anything to do with the treatment he sought after remains to be seen, but we wish nothing but the best for the Golden Boy.

UPDATE: Representatives for De La Hoya released the following statement to TMZ:

"After doing an honest evaluation of myself, I recognize that there are certain issues that I need to work on. Like everyone, I have my flaws, and I do not want to be one of those people that is afraid to admit and address those flaws.

"Throughout my career and my life, I have always met all challenges head-on, and this is no different. I am confident that with the support of my family and friends, I will become a stronger, healthier person.

"I ask for respect and privacy as my family and I go through this process."

UPDATE: According to another source, De La Hoya's stint in rehab may simply be a precursor to more serious issues that could potentially surface in the near future. "There's a bigger issue coming to the table and it will probably involve women. Usually when drugs are involved, sex is involved," the source commented. This latest news makes one take a second look at a previous scandal back in 2007, when alleged photos of De La Hoya dressed in fishnet stockings and high heels were leaked. Although the photos were said to have been digitally doctored, you can't help but wonder if perhaps they may have actually been real and taken during a cocaine-fueled party. Stay tuned as this story continues to develop.
[ Follow Ben Thompson on Twitter @fighthype ]