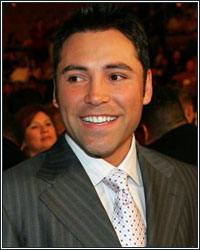 According to a couple of recent posts on his official Twitter page, Golden Boy Promotions President Oscar De La Hoya will be making a major announcement next Tuesday, March 6, that will allegedly send shock waves throughout the boxing community. "Major announcement soon to come that will shake the boxing industry in a major way," De La Hoya posted late last night. "I will announce Tuesday." The question is, exactly what could De La Hoya be announcing that will "shake the boxing industry"?

Naturally, the first thought that comes to mind is that the Golden Boy is coming out of retirement. It's a rumor that has continously popped up from time to time ever since he officially announced his retirement on April 15, 2009. Although De La Hoya previously admitted that the idea of making a comeback has crossed his mind [http://fighthype.com/pages/content9771.html], he's maintained that he's done fighting, citing a bad back amongst one of the reasons why he was content to trade in his boxing gloves for golf clubs. That being said, as recently as last October, Golden Boy Promotions CEO Richard Schaefer revealed that De La Hoya did express an interest to "give it one more" go.

While the idea of a De La Hoya comeback sounds intriguing, more than likely, that's probably not the major announcement he plans on making. After all, he did say it would "shake the boxing industry in a major way", and I highly doubt a De La Hoya comeback would have that kind of "major" impact on the sport. If I had to guess, I'd say it probably has something to do with some sort of network TV deal. Keep in mind, just a couple of weeks ago, both Richard Schaefer and Showtime Sports Vice President Stephen Espinoza hinted that boxing could return to network TV some time this year. "I am optimistic, very optimistic," Schaefer would tell Kevin Iole of Yahoo! Sports. Espinoza would echo those sentiments, stating, "There's a decent chance of it, maybe even a good chance of it happening, in fact."

So De La Hoya fans, I wouldn't hold my breath if you were hoping that he might be making a comeback. Instead, expect some sort of announcment pertaining to his actual company, Golden Boy Promotions, as opposed to his career. I'm definitely looking forward to finding out what the announcement will be on Tuesday.
[ Follow Ben Thompson on Twitter @fighthype ]