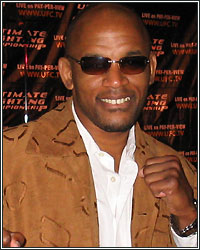 It looks like Dana Claus thought Mr. International was a little too naughty this year as he left him with a lump of coal this Christmas. MMA veteran Shonie Carter has just informed us that, apparently, the UFC didn't like his recent interview with FightHype.com so they released him from his contract. "Yeah, they didn't like it. I pissed off Joe Silva and Dana and they cut me," stated Carter who admits that his mouth has a way of getting him in trouble sometimes. That being said, Carter has already been contacted and now has several offers on the table. "I have 3 title shot offers on the table right now, including a fight with Drew Fickett." With the growing number of MMA organizations, HDNet Fights, Elite XC and M-1 to name a few, it won't be hard for a charismatic fighter like Shonie to find a new home where he'll actually have an opportunity to fight.

"I think I'm too real sometimes; I get that from my grandfather," Carter continued as he emphasized that he only speaks the truth and some people just don't like it. "I want all of those alphabets put together, HDNet, Elite XC, Strikeforce and M-1, and I will win all of their titles and come lay them with the other thirteen I have here." Mr. International believes that once he's won all of the titles in the other organizations, the UFC will definitely want him back, but for now, they made it perfectly clear that they no longer have any interest in a fighter that they weren't lining up any fights for. "They even took my tickets to UFC 79 when they cut my contract!"

Let that be a lesson to any other UFC fighter who may be wondering out loud when they'll have another opportunity to put food on their table. Andrei Arlovski better continue to keep his mouth shut if he doesn't want to suffer the same fate. Then again, maybe he shouldn't as I'm sure HDNet Fights, Elite XC or some other organization would love to give him an opportunity to exercise his freedom of speech.

More to come with Shonie Carter in the near future.
[ Follow Percy Crawford on Twitter @MrFighthype ]