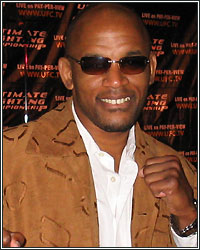 "I've served my time so what does the UFC and WEC want? I'm ready to hug and make up and say let me back in. How long do I have to sit my sentence out? I'm sorry…that's what happens when you misbehave. I was talking about people. I talked so bad about different promoters and promotions; I ain't tested positive for steroids and sat out longer than some of those guys," stated MMA veteran Shonie Carter as he talked about his desire to return to either the WEC or the UFC. Check out what else he had to say about his year in 2008, his future plans for 2009 and his thoughts on Rashad Evans, Quinton Jackson, Frank Mir, Brock Lesnar and more.

PC: How is the New Year treating you my man?

SC: The usual. It was expensive, but I did hang out with some of the NHL players from the Blackhawks.

PC: You fought 5 times in 2008. What does Mr. International have going on for 2009?

SC: Man, this year is stacking up for me. My man Gary Klusty is lining things up for me. It's going to be a busy year. I have a kickboxing match in Tampa; I will be fighting for a world title in Utah. What else we have cooking in the kitchen? I have a guest appearance in a movie in New Orleans with Method Man, I'm doing a seminar at the Arnold Classic; a few of them actually.

PC: You have to holla at me when you get in New Orleans.

SC: Oh yeah. Hey, I'm trying to get in touch with the guy from Mudbugs. I'm supposed to do a guest appearance over there.

PC: I'll hit him up. That's not far from my house.

SC: Yeah, do that for me. I forgot the guy's name, but they wanted me over there.

PC: Done deal. You were 4-1 in your fights last year. What are your goals for this year?

SC: My plan is to fight in all of these organizations and try to consolidate some of these belts that people have. It's too many organizations that I gave notoriety to that have guys walking around with belts. They know damn well Shonie Carter is a belt collector and I need some more jewelry and I include the WEC in there. I'm like, 'Damn, I've served my punishment." I've served my time so what does the UFC and WEC want? I'm ready to hug and make up and say let me back in. How long do I have to sit my sentence out? I'm sorry. What do I have to do? People were asking me why I wasn't in the UFC and they're in Chicago? I told them that's what happens when you misbehave. I was talking about people. I talked so bad about different promoters and promotions; I aint tested positive for steroids and sat out longer than some of those guys. I should've come out chiseled and used a little bit. I should get a break for time served.

PC: What weight class will you be competing at?

SC: I want to fight at 70. I'm getting older now, but it doesn't really matter. Nothing over 185. I want the WEC belt and I'm going to go and win that title in Utah. I don't even know what the hell the organization's name is, but I'm going to go win that and be like, "One down and thirteen more to go!" I have like 16 belts and it's ridiculous. I'm like Tiger Woods; how many belts can I get? I was supposed to go to Wisconsin for some upstart organization and they wanted to give me a title shot there. I fought some guy and beat him and was like, "Okay, take this replica belt and go get me a real one."

PC: I gotta do a recap on the year with you.

SC: Before I make any statements, I don't need any of these fighters running up on a brother. So ya'll understand, if you got knocked the fuck out, or submitted or posterized, it's your fault, not mine. The only fault of mine is my commentary. So there, my waiver has been put out there. As far as fights, I loved that whole Quinton Jackson and Wanderlei Silva trilogy. Oooowee, boy oh boy! Man, that knockout was so ugly; oh my God. I'm going to leave that one alone because I don't need any mad Brazilians up in my face. I need his autograph.

PC: You were a part of one of the wildest knockouts ever last year, the double knockout. How crazy was that?

SC: I got news on that speaking of which. They trying to get those boys to rematch in Japan, one of the major organizations, and they want yours truly to go over there as well.

PC: Well, you definitely got reaction of the year.

SC: Oh yeah; sure enough. That was just ridiculous. The sound it made was just, ugh! That was the best sound I heard somebody get laid out on. Them boys hurt each other. At least it was only brief.

PC: Who would you give your "Fighter of the Year" award to?

SC: I'm going to have to give it to my man Rashad. I gotta give it to him. He knocked people out all the way to a title belt. They can give it to whoever they want to, but he knocked out Chuck. And I love Chuck, that's my homie. He TKO'ed Forrest. I think the light heavyweight deserving of a title fight is Lyoto Machida.

PC: So you definitely believe it's time for Rashad to start getting his respect.

SC: Rashad don't get any love because he's bringing the perception of power. He's bringing true professionalism. He has favor and he's wearing a suit and tie and Rashad and Quinton, thank God for listening to a brother. These guys are out there doing what they should have been doing; putting a suit on. Walk in as a professional and then talk shit and back it up 1000%. They're not cookie-cutter fighters. They have their own persona. We know Rashad tweaks his nipples for shock affect, Quinton wears a chain and Chuck got his Mohawk. Tito had his blonde hair and the gravedigger and now you got Rashad tweaking his nipples and grabbing his junk and kissing at Forrest. Was it the most professional thing to do? No, but you do remember it? Was it professional for me to throw water bottles in your swimming pool? No, but you will remember it. Do people approve of me always fighting in Speedos? No, but you will remember it.

PC: Were you surprised that, out of all of the guys Minotauro has fought, Frank Mir was the first person to stop him?

SC: Oh my God. Frank Mir…I've never been a detractor of Frank Mir, but he thoroughly impressed me. Frank Mir, when you read this or you hear about this from somebody, I want your autograph. He really impressed me.

PC: Did Nog look really old in there to you?

SC: Let me explain this to you; that damn southpaw lead…people going to learn to listen to grown folks. I might not be a coach on The Ultimate Fighter, but I know about fighting. Everybody is so used to seeing the conventional fighter. All of the guys that fought southpaw won. Nogueira looked like a deer in headlights. He looked utterly confused. I was at a viewing party and people were getting mad at me. You know, the casual fans that like fighting, but don't know a thing about fighting. They have that "who do you think you are" attitude. I laughed because I was like, "I'm not going to tell you who I am. I'm just the guy that's picking all of the winners to these fights." So needless to say, I picked all of the winners to the fights.

PC: Brock Lesnar knocked out Randy Couture and became the heavyweight champion in 2008. What did you think of that fight?

SC: I'm not knocking the fact that he beat Randy, but I'm knocking the fact of him being in that position so quickly and fighting for the title. That was my biggest beef. I would rather see Brock Lesnar fight for a title than damn Kimbo Slice. Brock Lesnar actually wrestled in college. I'm hating on the fact that they won't let me in pro wrestling. I'll lay the smack down on the middleweight champion. I'll take that belt too. Give it here pimpin.

PC: If you look at all of the champions in the UFC, Penn, St. Pierre, Silva, Evans and Lesnar, who do you think will be the first to lose their title in 2009?

SC: Lesnar! Lesnar bar none! He's a big strong champion, but his skill set is not developed yet.

PC: Who do you like in the BJ Penn-Georges St. Pierre fight?

SC: My God, both of them are my friends and that's a hard…I don't know. I can't favor either one of them. I just want to see a great fight. It's tough to pick that one stylistically. I'm still on the fence about the first decision. It's going to be hell up in that cage!
[ Follow Percy Crawford on Twitter @MrFighthype ]