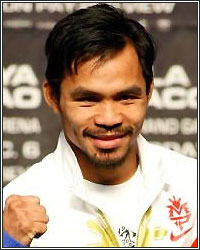 Unfortunately for welterweight champion Shane Mosley, his recent offer to face jr. welterweight champion Manny Pacquiao at 140 pounds may have come too late. According to Nick Giongco of the Manila Bulletin, Pacquiao has agreed to face WBO welterweight champion Miguel Cotto at a catch-weight of 145 pounds. Apparently, the Filipino superstar gave his verbal commitment during a long-distance phone conversation with his promoter, Bob Arum, over the weekend.

"Adjustments were made," stated Pacquiao adviser Mike Koncz. What exactly those adjustments were remains to be seen, but obviously they had nothing to do with the weight as Koncz informed Giongco that the fight is a go for November 14th athe MGM Grand Casino in Las Vegas, Nevada. "Bob is expected to make an announcement within the week," he continued.

Pacquiao, who weighed in at 138 pounds for his last fight against Ricky Hatton, originally wanted Cotto, who weighed in at 146 pounds for his own last fight against Joshua Clottey, to meet him at a catch-weight of 143 pounds. When Cotto insisted that he could fight no lower than 145 pounds, Pacquiao's lawyer, Franklin Gacal, made the comment that perhaps they would reconsider a clash with Shane Mosley. "We will not agree to 145 pounds. And if Cotto insists, we'll go for Mosley," he stated. Upon hearing this, Mosley jumped at the opportunity to get his name back in the mix, coming on record to express his desire to face Pacquiao at his own weight, 140 pounds, in hopes of capturing a title in a division he skipped over nearly ten years ago when he himself made the move from lightweight to welterweight.

"He [Cotto] can't make it! He can not make 143. He can barely make 145. He might not be able to make 145. I'm going to them one better. I'm going to 140! I want the title at 140," Mosley stated in an interview with FightHype.com just this past Friday.

Evidently, Cotto's weight wasn't really that big of an issue for Pacquiao as he has now decided to face Cotto at 145 pounds as opposed to putting his Ring Magazine jr. welterweight title on the line against Mosley. If Mosley would have offered to face Pacquiao at 140 pounds a lot sooner, perhaps immediately after Manny's annihilation of Ricky Hatton, one has to wonder if Cotto would have even been an option for the pound-for-pound champion.
[ Follow Ben Thompson on Twitter @fighthype ]