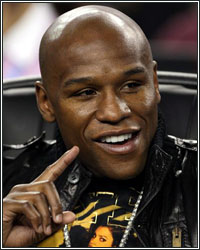 "Everybody that's reading this right now, I want them to do their research on these dates. 3/19/05 Erik Morales vs. Manny Pacquiao. 5/8/04 Juan Manuel Marquez vs. Manny Pacquiao. 11/10/01 Agapito Sanchez vs. Manny Pacquiao. 9/17/99 Medgoen Singsurat vs. Manny Pacquiao. 2/9/96 Rustico Torrecampo vs. Manny Pacquiao. I just want people to do their research and go to www.floydmayweather.com and tell me what you think," stated pound-for-pound king Floyd Mayweather just a few weeks ago as he shared his thoughts on fellow pound-for-pound champion Manny Pacquiao during a recent interview with FightHype.com. Today, Mayweather decided to provide fans with the research material they'll need. In a series of updates on his official Twitter page, the undefeated 5-division world champion provided YouTube links to Pacquiao's three losses.

@FloydMayweather - Pacquiao vs Erik Morales: http://youtu.be/ZbyosYCPjps

@FloydMayweather - Pacquiao vs. Medgoen Singsurat: http://youtu.be/O4qwBzJKrXY

@FloydMayweather - Pacquiao vs. Rustico Torrecampo: http://youtu.be/9CdXikZdGzo

Regardless of what anyone thinks his motives may be for posting the links, it's clear that Mayweather does indeed have Manny Pacquiao on his mind from time to time. Perhaps a potential showdown between the two best fighters in the world will take place sooner than we all think...assuming Pacquiao has no problems getting past Mayweather's last opponent, "Sugar" Shane Mosley, on May 7. Of course, there's still that small issue of random blood testing leading all the way up until the bout.
[ Follow Ben Thompson on Twitter @fighthype ]