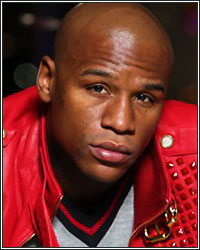 "You know, the fight was very, very hard to watch. The guy Kell Brook came to my boxing gym I think 5 days before the fight and watched me spar a little bit. Cool guy. A true gentleman. He earned it the hard way," stated undefeated pound-for-pound king Floyd Mayweather, who shared his thoughts on the title-winning performance of newly-crowned IBF welterweight champion Kell Brook. Although Mayweather felt Brook's fight with Shawn Porter was difficult to watch, he did give the native of Sheffield, England credit for remaining undefeated while accomplishing his goal of becoming a world champion.

"After that many fights, whether it's against tomato cans or against top opposition, you're going to have some type of experience to be able to go 12 rounds, and you have to be able to fight just a little bit if you beat everybody that they put in front of you. So congratulations to him and I wish him nothing but the best," Mayweather commented. With Mayweather already holding the WBC and WBA welterweight titles, Brook's victory may have earned him a future unification fight showdown. When asked about the possibility of Brook being a future opponent, Mayweather simply replied, "Well, I already know who I'm fighting September 13th. As of right now, I don't know who I'm fighting in May and I don't know who I'm fighting next September, but you know I gotta take just one fight at a time and my focus is Maidana."

ALSO CHECK OUT:

FLOYD MAYWEATHER ON WHY HE CALLS HIMSELF THE BEST EVER: "I GAVE THIS SPORT MY WHOLE LIFE"

FLOYD MAYWEATHER EXPLAINS 147 AND 154 TITLE DEFENSE AGAINST MAIDANA: "WE REALLY NEED TO GET THIS STUFF UNDER CONTROL"

FLOYD MAYWEATHER EXPLAINS HIS HUNGER TO STAY ON TOP: "I'M NO LONGER FIGHTING FOR JUST FLOYD...I'M FIGHTING FOR EVERYBODY"

FLOYD MAYWEATHER TALKS MARCOS MAIDANA REMATCH: "I'M A LOT STRONGER...I'LL TRY TO KNOCK THE GUY OUT OR WIN 12 ROUNDS"

FLOYD MAYWEATHER DEFENDS DANNY GARCIA: "IT'S OKAY TO GET A TUNE-UP...I'M PROUD OF DANNY GARCIA"
[ Follow Ben Thompson on Twitter @fighthype ]